Preparing for SIMS NG
NG process overview
There are a number of activities schools and SSUs can undertake in preparation for SIMS Next Gen.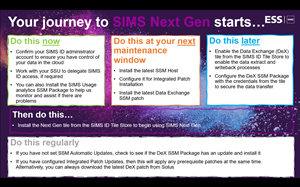 Download a more detailed guide
Updating the SSM Host
The latest SSM Host (scheduled for release shortly) will allow ESS to distribute low risk patches required for the extraction of additional data to support Next Gen rollout. These low-risk patches do not impact on normal SIMS 7 operations. The installation of other packages and patches is not affected by this change.
To enable the auto-updating of NG patches each school will need to specify a set of database credential in SSM Host.
A quick video guide is available for

Configuring the new SIMS Services Manager Host
Installing DeX
A quick video guide is available for

Installing the DeX application within SIMS ID
And

Installing the Dex SSM package and entering credentials