Skodel
Enabling Skodel
Pre-requisites
To enable Skodel in SIMS ID you need to have access to SIMS ID, have a SIMS ID Local Administrator account and have linked SIMS to SIMS ID. The FAQ section below provides details on these actions.
Instructions for installing the SSM package to allow SIMS data to populate SIMS ID can be found in the FAQ at the bottom of this article
Once you have installed the SSM package or If you have previously installed the SSM package for SIMS products but have not enabled SIMS ID to receive this data please follow the instructions here to enable SIMS ID to receive SIMS Data
School Actions
The action can only be carried out by a SIMS ID Local Administrator.
Log into SIMS ID https://id.sims.co.uk as a SIMS ID Local Administrator
Accessing the Tile Store
The Tile Store is accessible via the Tile Store tile on the Launcher Page of SIMS ID. Only admin users will have access to this tile.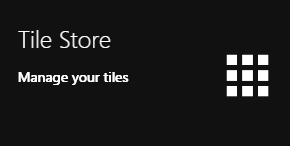 If you have admin access to more than one site, when you access the tile store you will be taken to your primary sites Tile store first, if you want to change sites click on the "Change Site" button at the top or the page and a list of available sites will open within the page allowing you to select the site you wish to manage.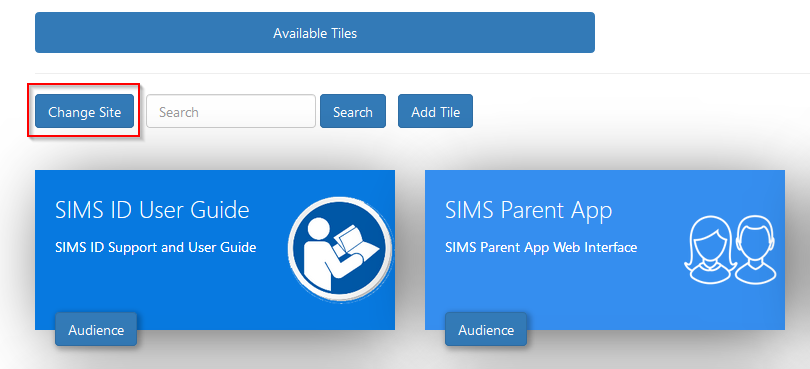 The Tile Store Interface
The Tile Store is split into two sections. Available Tiles and Available Applications

To install Skodel you need to go to the Available Applications screen
A search facility is available on the Tile Store screen to help quickly locate tiles you are looking for.
Available Applications Screen Actions.
On the Available Applications Screen, you will be presented with a number of tiles. These tiles are applications that are available to deploy at your site. You will need to find the Skodel tile.
Finding out about the Skodel Application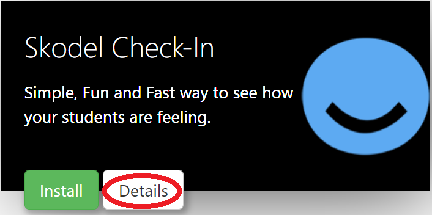 On the Skodel Application tile there is a Show Details button. Clicking this button will provide you with information about the application. Also included are links to the applications:
Privacy Statement
GDPR data transfer summary
Support Page
Installing the Skodel Application
To install an application click on the green Install Button on the tile.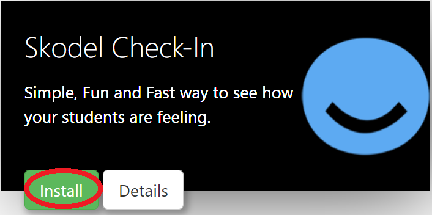 Why is there no install button on a tile?
An install button will not show if the application is already installed at your site. Installed applications show in Available Tiles
Accepting the Data transfer
When you install a tile you may be asked to Approve a GDPR data transfer screen. Please ensure you are authorised to accept this and make reference to the information presented on the screen and the information contained in the documentation linked to from the application
(Please scroll to the bottom of the page (not shown) and either agree to the data exchange or press cancel.)
Once installed the tile will move to the Available Applications tab and your integration with Skodel is enabled.
FAQs
My school does not currently use SIMS ID.
In this case please contact your SIMS Support Unit or educationsalesadmin@educationsoftwaresolutions.co.uk and ask for access to SIMS ID Lite.
We use SIMS ID but no one has an admin account.
In this case please contact your SIMS Support Unit
Is there a charge for SIMS ID
No, SIMS ID Lite is supplied as part of the SIMS ecosystem
How do I link SIMS and SIMS ID.
Please follow the instructions to Link SIMS to SIMS ID as part of this you will need to enable a package in SIMS Service Manager. If you have SIMS Pay, SIMS Parent, SIMS Activities or SIMS Student this may already be set up.
How can I tell if data from SIMS is available in SIMS ID?
As a SIMS ID Local Site Administrator. Log into SIMS ID. Now Click on the Users Tile. You will be able to see all data here. Check you have Parents, Staff and Student data.
If you click on the Manage button next to a person record and choose View Profile you can check the MIS details held by viewing the MIS Data tab of the profile.