Enabling OneNote Writeback
Step 8 – OneNote Write Back Service Enablement
This application allows you enable the writeback of Assessment scores taken in OneNote Class Notebook to SIMS Assessment Manager.
Getting started
Like all application installs this task is initiated from inside the Tile Application Store.
For full information on using the Application Tile Store please see Using the Tile Store an Overview
Accessing the Tile Store
Login to SIMS ID https://id.sims.co.uk as a Local Site Administrator,
The Tile Store is accessible via the Tile Store tile on the Launcher Page of SIMS ID. Only admin users will have access to this tile.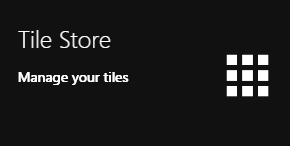 If you have admin access to more than one site, when you access the tile store you will be taken to your primary sites Tile store first, if you want to change sites click on the "Change Site" button at the top or the page and a list of available sites will open within the page allowing you to select the site you wish to manage.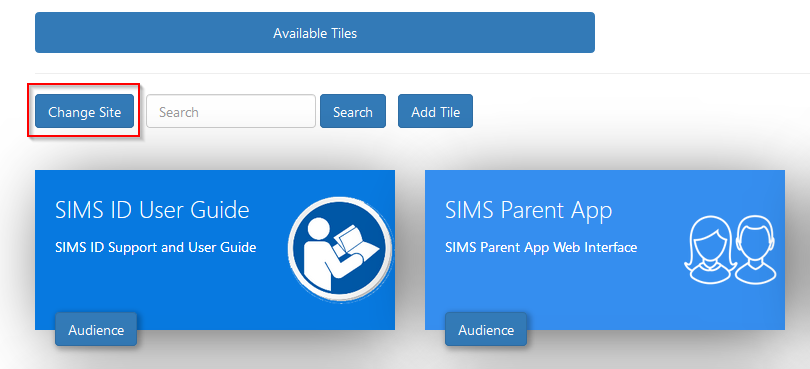 Finding the 'OneNote Integration' application
A search facility is available on the Tile Store screen to help quickly locate tiles you are looking for. Search for 'OneNote Integration' application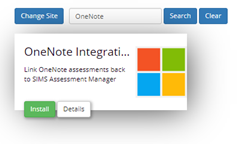 Checking the application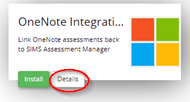 On the Application, there is a Details button. Clicking this button will provide you with information about the application. Included are links to the applications:
Privacy Statement
GDPR data transfer summary

Support Page
Installing the OneNote Integration Application
To install an application, click on the green Install Button on the tile.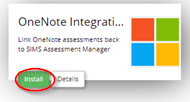 The next screen will inform you that you will agree a GDPR statement later in the process.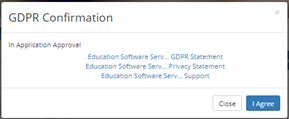 Click I agree.
Once installed the OneNote Integration application becomes available on the *Available Tiles screen. You will be taken to this screen.
Configuring the Link OneNote Integration application
You will be presented with a screen that explains the prerequisites for using this service.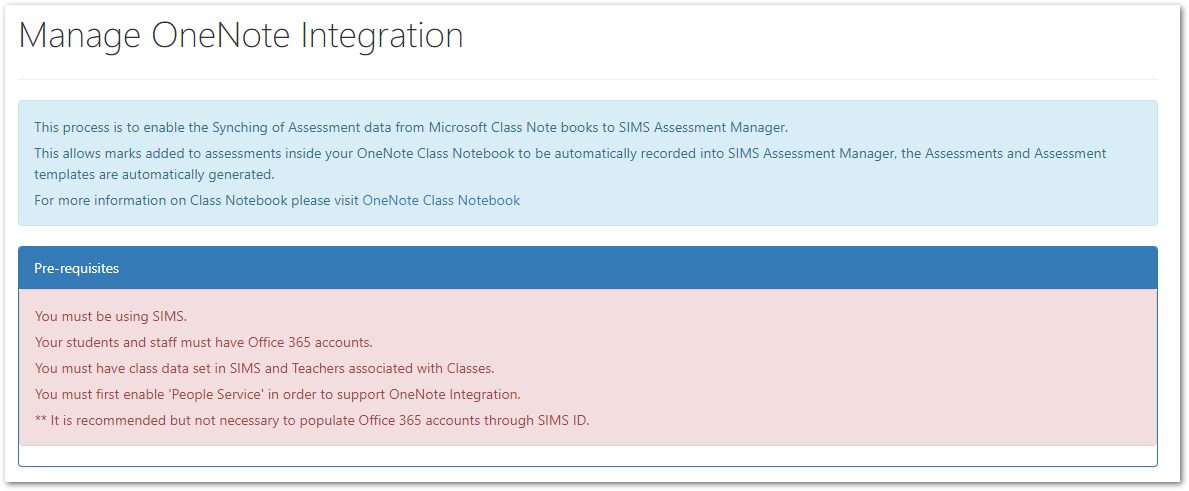 Click Next to proceed.
You will now be presented with a screen that explains what data that will be transferred between SIMS ID and OneNote and the data that will transfer from OneNote to SIMS ID and then onto SIMS.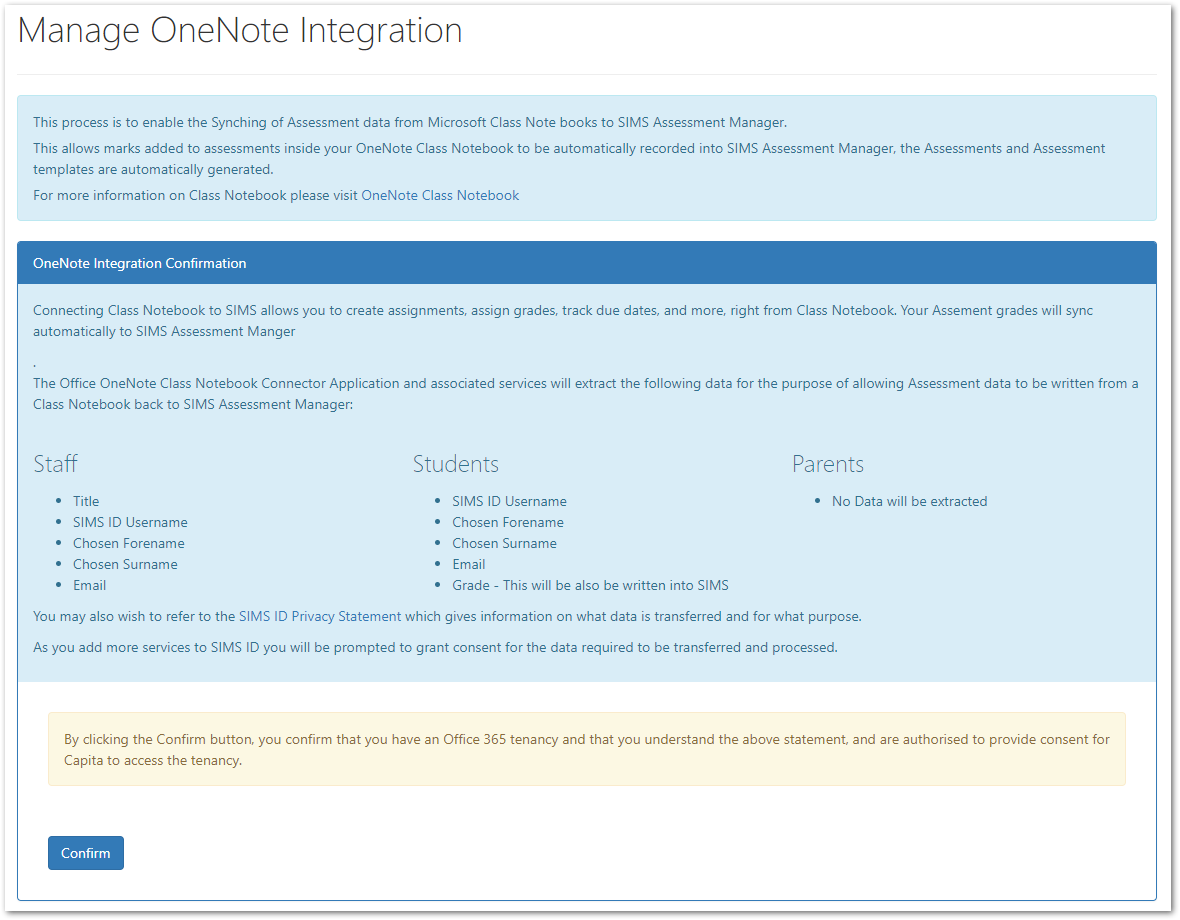 Ensure you are happy with this data transfer before accepting the Data Processing statement by clicking Confirm
You will be presented with a confirmation screen which also allows you to reject the data processing notice. You may come back to this screen at any point in the future should you wish to cease using the service to transfer data to and from OneNote.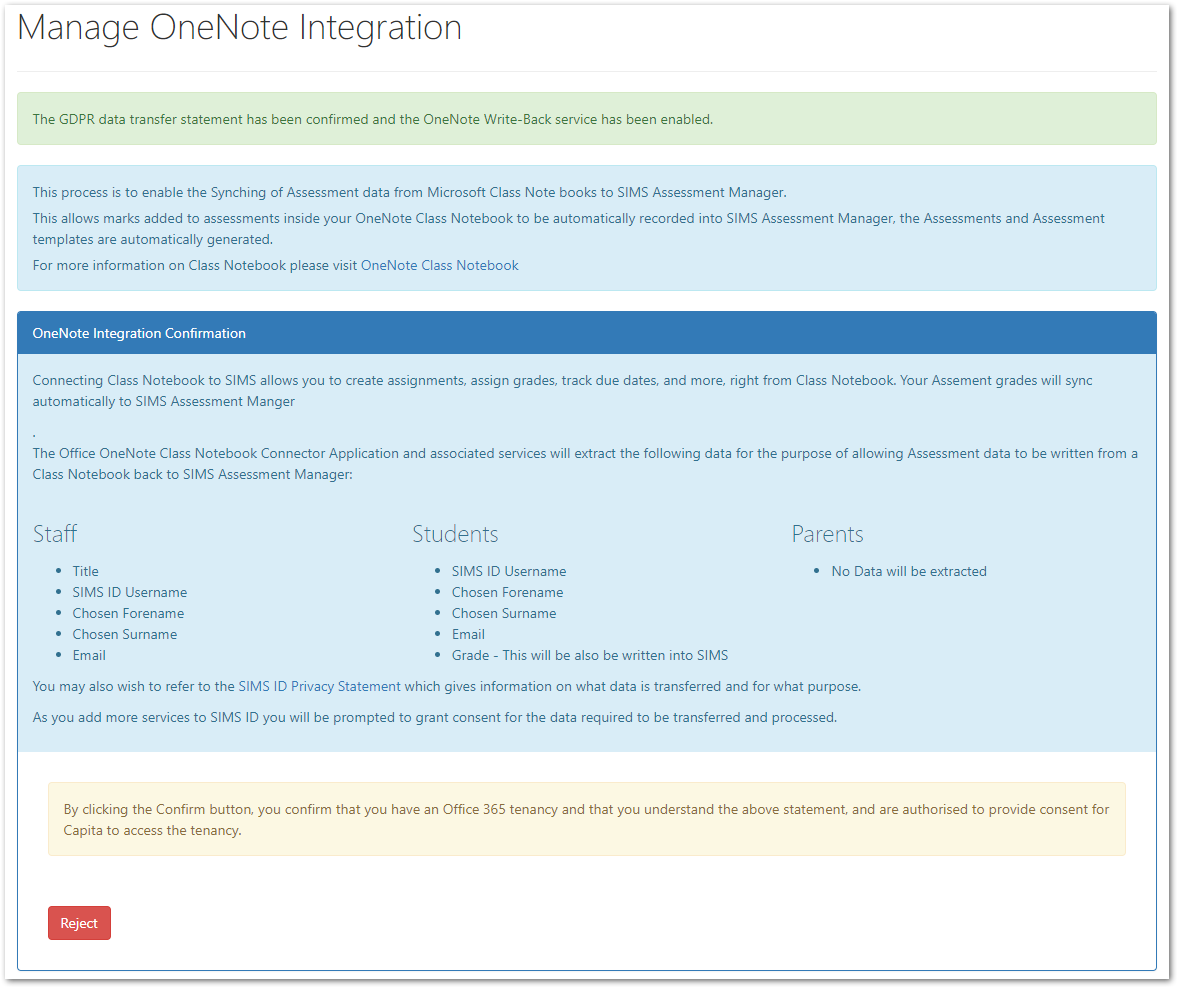 Congratulations
You are now fully configured to use OneNote Assessment write back.
For details of how to use OneNote with SIMS watch the video guide